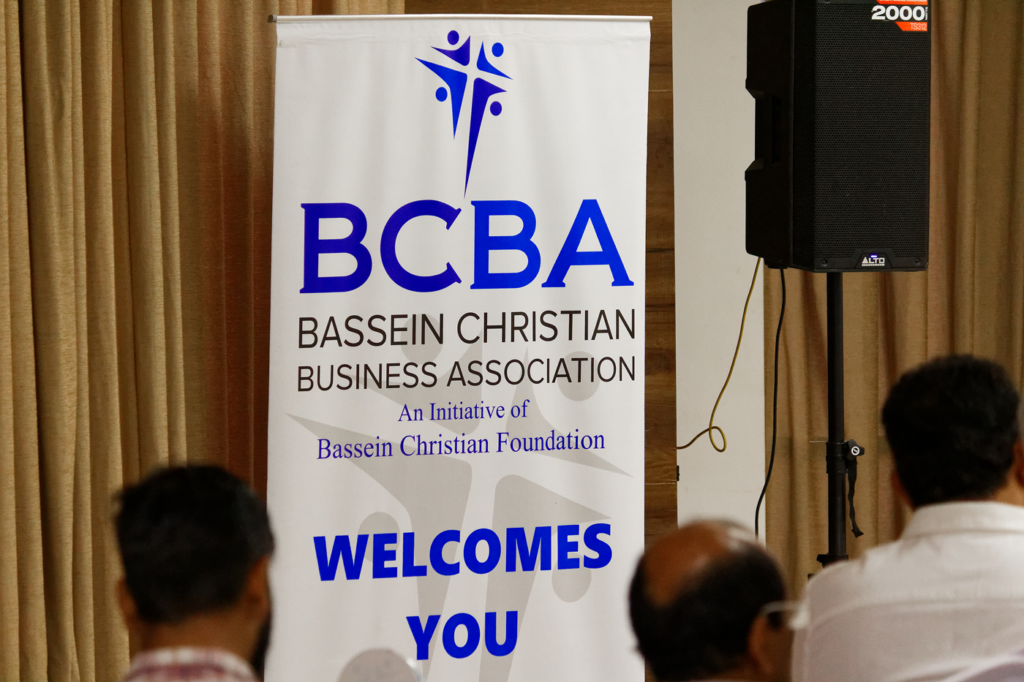 Get to know
Bassein Christian Business Association
Welcome to Bassein Christian Business Association (BCBA) an initiative of the Bassein Christian Foundation (Registered), we are a 250+ strong business community from Vasai-Virar.
BCBA is a movement of Christian entrepreneurs and professionals. We are committed to foster a programme of Christian businessmen and to inculcate creative co-operation among them for their general uplift.
BCBA is changing the way people and businesses network.
BCBA Member since 2017, have got to learn many things from this Business Group. Here, we get to explore many new ventures and whenever needed help is provided from the other co-members. I run a Water Purifier Business. More that 25 machines have been installed till date from the group members. BCBA Monthly Meetings gives us an opportunity to meet other Members and have positive interactions with them. Happy to be a part of BCBA Group.
Have grown the Business from scratch to being a Successful Entrepreneur for TENUJ Home-Made Products in this BCBA Group. Lockdown had given us more and more opportunities to grow. Have assisted in improving skillsets of many people through Sanjeevan Life Skills
Best Platform to start and gear up your Business We are into the manufacturer of Office Chairs and I have joined this group in October 2020 Till date I got good business and connects from BCBA Happy and Feeling proud to be a part of BCBA
Have been a member of BCBA since it's inspection in 2016.Got to know many people through BCBA and the many different businesses people of our community are involved in.
Member since 2019... After joining, BCBA got good business in Vasai. It's a great networking platform for catholic Entrepreneurs. Also had the privilege of being a part of a Working committee group which helped me personally to develop myself in managing things systematically.. The founder members and all other working committee members are very much supportive and help us grow with them. Along with business opportunities I would say its an overall self development and learning experience to be a part of BCBA.
I have been part of this group since many years This group helps many people in their business. Glad to be a part of this group
Ben n Best is committed to doing something unique, creative and transformational for your success both personally and professionally. We conduct sessions both online as well as offline
I joined BCBA in April 2020. Marketing my business on BCBA platform generated 20% greater sales. I also got good referrals from both internal as well as external members. Also, BCBA monthly meetings are a great learning experience.
When I joined BCBA, I knew it was a place to network and pass referrals, but what I never expected was the camaraderie that exists between members. They conduct monthly meetings and have talks for business growth and guidance where we can have conversations with other members and grow our connections. My business got good mileage for reaching good prospect customers and also guidance from experienced entrepreneurs
Member since launch, good platform for business to roll among our christian community and opportunities for collaboration among members .. New connections ..i got business up to date more than 5 lakhs
Networking has always been an important key to my professional success. With the rise of the BCBA, Catholic entrepreneurship is becoming more accessible in the areas of Vasai-Virar. This amazing platform has always helped young older entrepreneurs to offer their product or service to the masses. I believe that Catholic entrepreneurship ought to begin by always dedicating your business to the Almighty.
I am Happy to be a Part of BCBA. It's an Excellent group with qualified and Co-operative members. The response that I have received from the group has been overwhelming. Apart from the Business that I receive, It also provides immense knowledge and Opportunities
I thank BCBA and its founder members for this platform. For a start up this is a very good platform where you can grow your business.
Member since 16th March 2020. If you want to run a business you need support throughout and that's what BCBA gave me. Other than this BCBA also provides unleash Amt of support for all your queries. You name it they give ultimate solutions for it.
Join our Monthly Meetings
We meet on every second friday of the month and these meetings are conducted acorss Vasai-Virar so that we get maximum participation from the members. We have some esteemed speakers gracing our meetings.
Clients we have worked with.